Things to notice:
If you're in a low desert region, look for cyclamen, primroses, pansies, and violas to add a bit of color to your winter landscape. In colder high desert areas, you can still create a winter wonderland with the lights of Southwest luminarias.

Do you celebrate the holidays with a live tree? Search for an Aleppo or Mondale pine, which can be planted after the holidays as part of a low water-use landscape.

Take time out from hustle and bustle of the holidays. Sit around an outdoor fire pit and look at the stars. The Geminid meteor showers peak around mid-month.

Winter solstice may be the shortest day of the year, but gardeners should take heart knowing that spring is not far away!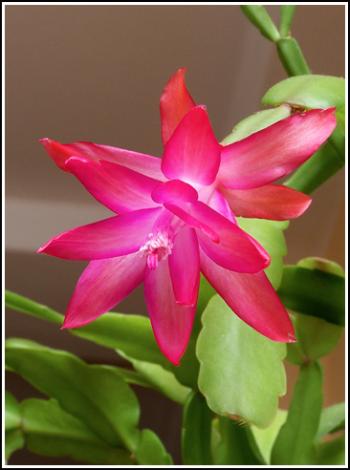 Christmas cactus, Schlumbergera truncata
"One of the most delightful things about a garden is the anticipation it provides." –W.E. Johns
Things to do:
Time to pick your pecans!

Pinch your chrysanthemums back to encourage spring bloom.

December is the perfect time to design a new landscape plan and make structural improvements to your garden.

Make sure that indoor plants are getting enough sunlight and water. Keep a watch for insects—with the heat on, they can multiply quickly.

Keep your bird feeders filled.

Don't forget gardening when you make out your holiday gift list!